Hotels in Málaga city and surroundigs, coast and beach - Tourist information
Málaga and the coast Costa del Sol belong to the most famous tourist destinations in Spain and Europe. This province has many to offer: an unbeatable range of excellent hotels and beaches, a higly appreciated gastronomy and culture, as well as numerous possibilities to spend your leisure time - Málaga will give you a pleasant surprise and make your stay an unforgettable memory.
Málaga city, Marbella, Puerto Banus, Torremolinos, Sierra Nevada, Ronda, Nerja, Antequera, Fuengirola, Benalmadena, Mijas... all those places provide an enviable climate the whole year round.
The different tourist places in the Málaga-Costa del Sol area, dispose of excellent road connections. If you wish to visit the area on a low-cost budget and at your own pace, we recommend you to hire a car on arrival at the airport.
Enjoy Málaga "Costa del Sol"!
Málaga, cosmopolitan city
Málaga has everything!.
Culture, history, leisure time, sandy beaches... Málaga is a cosmopolitan city with absolutely everything you may be looking for. An incredible place to be during "Semana Santa" with its unforgettable religious processions, 15 km white, sandy beach and the second biggest port of Spain. Enjoy its overwhelming monuments, such as the Cathedral, the Castle of Gibralfaro or the Roman Theatre. Stroll through museums or botanical gardens as the "Jardines Puerta Oscura". Let yourself seduce by the art of Flamenco and get carried away during the famous public festival "Feria de Málaga" in August. Come and visit Málaga - you will be surprised. Enjoy the everlasting enviable climate.
Marbella
Marbella never falls asleep.
When you think of Marbella, just imagine a city, which is big, elegant, inviting and full of glamour. It is one of the principal destinations for the rich, the famous and important businessmen from all over the world. With its spectacular harbour front, Marbella is surrounded by fabulous "blue flag" beaches and bursting with attractive shopping areas - where you can find the most elegant and fashionable brands. Not to forget its abundance of leisure opportunities! Its accommodation facilities are spectacular, offering a wide range of possibilities and rates for every budget.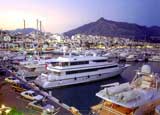 Puerto Banús
Indulge in luxury in Puerto Banús.
Within eight kilometres from Málaga, you will reach famous Puerto Banús - a symbol of luxury for the high society. Also known as the so-called "Golden Mile" you can discover luxurious palaces, villas and castles - most of the owners are Arabian Sheiks - together with a huge number of yachts, anchoring in the magnificent marina. Its stunning bay, is worth being visited! Puerto Banús was designated Centre of National Tourist Interest, and awarded with the International Gold Medal for the development of economic, cultural and social cooperation.
Torremolinos
A picturesque city right on the sea.
Torremolinos is a perfect holiday destination if you are looking for sun and beaches. Enjoy the 9 km long, clean beach, with its numerous bars and food stalls, where you should try Málaga's typical "boquerones", small sardines, marinated with vinegar and garlic. Málaga is not only a great destination due to its great offer in hotels. This is the perfect place to relax, get some sun, have dinner in a cosy restaurant and have fun at night, thanks, to the many pubs and discotheques alongside the beach walk and the typical areas to go out.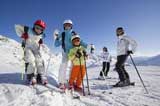 Sierra Nevada
Holidays in the mountains of Sierra Nevada.
The Sierra Nevada National Park is only 90 minutes away from Málaga Airport. Thanks to its high mountains, the cool climate and its easy accessibility, it is one of the principal attractions for lovers of winter sport activities from Spain and other countries. There are many high quality offers for ski and rural tourism all year long. In the Sierra Nevada National Park, you will find a wide range of hotels, mountain sport activities, beautiful excursions, great restaurants and lots of spots for party activities.
Ronda
The impressing views from the white village of Ronda.
Perched on a plateau, which is interrupted by a deep canyon, formed by the steady flow of the river Guadalevín, rises the charming town of Ronda, with its whitewashed houses, sitting like swallows' nests above the abyss, offering stunning views to the enchanted visitor. Ronda has a rich cultural and historical heritage, surrounded by beautiful landscape and natural parks. Viticulture and gastronomy play an important role in this unique small town. Celebrations as the "Semana Santa" and the "Feria de Pedro Romero" have been praised as some of the most spectacular events in Andalusia for tourists.
Nerja
Discover the silence of Nerja.
Nerja, a small, very quiet seaside village with splendid views over the sea, like those of the balcony of Europe. With 16 km of beaches and coves that surround it, its famous caves with spectacular formations of stalactites and stalagmites, Nerja is the ideal place to rest and walk, enjoy the beach and diving, and enjoy a good night of tapas in their beach bars called "chiringuitos".
Discover Málaga on your own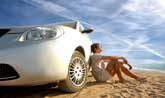 Rental car companies and offers in Málaga
Rental Car companies as SIXT, Hertz, AVIS, BUDGET and Europcar do often promote offers for several days or complete weekends - just perfect to visit Málaga from its sunny side. Please visit their websites to see current offers.
.:.
.:.
.:.
.:.
Do you enjoy driving? Málaga and the Costa del Sol are full of veritable treasures. Simply hire a car and discover them on your own!