Hotels in Málaga province, beach or mountains - Tourist information
Malaga and its Costa del Sol (Sun Coast) is one of the most famous and valued tourist destinations in Spain and southern Europe. The possibilities offered by the province, together with the unbeatable offer of hotels will pleasantly surprise you.
Beach, mountain, snow, culture, leisure, landscapes, history and gastronomy are some of the options to enjoy that this province offers, and always accompanied by an enviable climate. Moreover, all tourist enclaves in Malaga and the Costa del Sol are very well connected by road: Malaga city, Marbella, Puerto Banús, Torremolinos, Sierra Nevada, Ronda, Nerja, Antequera, Fuengirola, Benalmadena, Mijas, etc, so renting a car on arrival at the airport is also a good option for independent travellers. Enjoy Málaga, the "Costa del Sol"!
Malaga, a cosmopolitan city
Málaga has everything!
History, gastronomy, beach ... Malaga is a cosmopolitan city where nothing is missing. Malaga is amazing at Easter. It also has 15 kilometres of beach and the second largest port in Spain, as well as magnificent monuments such as the Cathedral, Gibralfaro Castle, the Roman Theater, museums, the Dark Gate Gardens, flamenco art, etc., not forgetting the Fair of Malaga in August. In short, visit Malaga and you will be surprised.
Marbella
Marbella never sleeps.
World-renowned city, large, elegant, cozy and full of glamour, it is one of the main destinations of rich, famous and important businessmen from around the world. With a spectacular seafront, Marbella is surrounded by fabulous blue flag quality beaches and immense commercial and leisure areas, where you can find the most elegant brands today. Its offer of accommodation is also spectacular, with a wide range of possibilities and prices.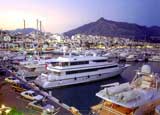 Puerto Banús
Enjoy luxury in Puerto Banús.
The famous Puerto Banús is located eight kilometres from Marbella - a symbol of luxury for high society. Also known as "the Golden Mile", here you can find luxurious palaces, villas and castles, most of them property to Arab sheikhs, along with a huge fleet of yachts anchored in this spectacular harbor. A virtually must see bay. Designated as National Tourist Interest Center, and awarded the International Gold Medal for Merit in the field of economic, cultural and social cooperation development.
Torremolinos
A picturesque beachfront city.
Torremolinos is a perfect holiday destination for sun and beach. It has 9 kilometers of a well-kept beach full of bars and beach bars where you can enjoy the typical Malaga anchovies. Equipped with an extensive hotel offer, this is a perfect place to relax, sunbathe, dine in a good restaurant, and have fun at night thanks to a large number of pubs and discos along the promenade and the busiest areas.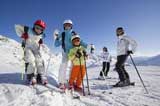 Sierra Nevada
Holidays in the mountains of Sierra Nevada.
The Sierra Nevada National Park is located 90 minutes from Malaga airport. Thanks to the height of the summits, its good weather and easy access, it is one of the main attractions for winter sports lovers in Spain and around the world. Ski tourism and rural tourism have its greatest exponent here with a great offer of quality in its hotels. In the Sierra Nevada, you can enjoy mountain sports, outdoor excursions, restaurants and nightlife at your best.
Ronda
The breathtaking views from the white village of Ronda.
On a plateau cut by a deep gorge excavated by the Guadalevín River, the city of Ronda imposes itself with its buildings hovering in a vacuum in stunning views. It also has a rich cultural and historical heritage in an environment full of nature and natural parks. Oenology and gastronomy also have a prominent role in this unique and peculiar city. Holy Week and the Pedro Romero Fair have been declared Festivals of national tourist interest in Andalusia.
Nerja
Discover the peaceful atmosphere of Nerja.
Nerja is a small, very quiet coastal town, with splendid views over the sea, such as those on the "balcony of Europe." It has 16 km of beaches and coves that surround it, and famous caves with spectacular formations of stalactites and stalagmites. Nerja is the ideal place to rest and walk, enjoy the beach and scuba diving, and enjoy a good night delighting tapas in their authentic beach bars populary known as "Chiringuitos".
Discover Malaga on your own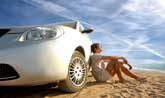 Car rental offers in Malaga
Car rental companies SIXT, Hertz, AVIS, Budget and Europcar often launch offers of several days or weekends to visit Malaga in the best conditions. Check their offers at the airport and book directly by visiting their website.
.:.
.:.
.:.
.:.
Do you enjoy driving? Málaga and the Costa del Sol are full of veritable treasures. Simply hire a car and discover them on your own!